The old topic was total phail, so here's a new one.

GREYSTONE
sex - Male.
breed - Your average North American Timber wolf.
position - He is the alpha male of the pack.
pelt - Greystone has a very normal colouration, for his pelt is, as his name would imply, grey. It's many shades of grey, but mainly a stone grey with hints of silver traced amongst it. On his undersides is a milky hue.
eye colour - Stunning, electric blue.
scars and abnormalities - No scars just yet, and he wasn't born with any abnormal traits.
body structure - He has a tall structure, and it is rather muscular. His body was built for the hunt, as indicated by being more lean than buff, and, as expected, he loves a good hunt.
personality - He is commonly regretful over past actions, and was formerly rather aggressive, as he killed pups who never deserved to die. After he had developed regret, he had become a much more caring individual, and would offer more compassion to other wolves before attacking. Blah blah blah, more will come later.
reference - Avatar plz.
history - rewriting.
Last edited by Greystone on Thu Jul 26, 2012 6:56 pm; edited 1 time in total
Kohaku
age: One year and a half
sex: Male
breed: He is quite unsure of which breed of wolf he is, for he had never learned.
pelt: His pelt is grey with a slight bluish tint to it. His back and the top of his head are mixed into his pelt. The tips of hs ears and tail are black and his legs are black. His undersides are white. Fail description ftw.
eye colour: His right eye is lime green and his left eye is purple. :3
scars and abnormalities: None at all.
body structure: He is thin and lanky, built to run. His legs are long. Fail. :D
personality: Kohaku is a calm and quiet individual, and is often peaceful. Instead of fighting, he will simply speak something through. If two other wolves have conflict, he will just watch and be glad that he wasn't involved. More later...
reference: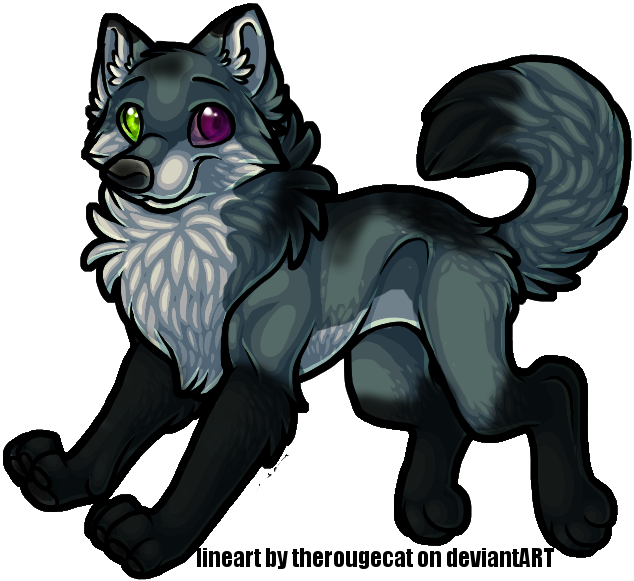 history: Coming...

---
Permissions in this forum:
You
cannot
reply to topics in this forum